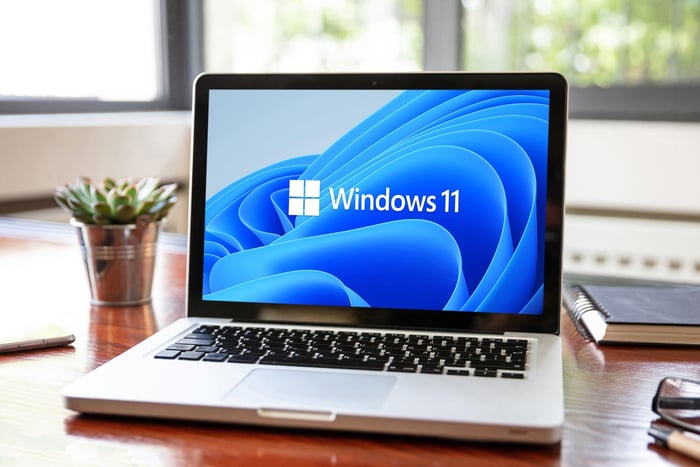 Leading-edge, or bleeding edge – what difference will Windows 11 make to your business, and should you upgrade? Microsoft has revealed the first big change to its Windows platform in over five years since the release of Windows 10, and it delivers significant changes! Microsoft over the years has been subject to a ping-pong pattern of good and bad operating systems:
Windows XP — Good!
Windows Vista — Bad.
Windows 7 — Good!
Windows 8 — Bad.
Windows 10 — Good!
Is Windows 11 the operating system to break the pattern?
Microsoft announced Windows 10 over five years ago, and unforgettably said it would be the "last version of Windows ever". That's a surprising statement in the technology industry, as Apple and Google's operating systems are updated every year as well as being updated incrementally. Many took  Microsoft at their word – that Windows 10 would be the last.
End of life, Windows 11 upgrade availability and pricing
Windows 10 Home and Pro OS retirement date is set for the 14/10/2025 so there is no need to worry yet, and its free to upgrade for all users currently on Windows 10 with compatible hardware. However according to Microsoft, "The upgrade rollout plan is still being finalised, but for most devices already in use today, we expect it to be ready sometime in early 2022. Not all Windows 10 PCs that are eligible to upgrade to Windows 11 will be offered to upgrade at the same time. To see if your PC is eligible to upgrade, check the Windows 11 compatibility page. Once the upgrade rollout has started, you can check if it is ready for your device by going to Settings/Windows Updates."
Pricing has not been issued by Microsoft yet, but current pricing for Microsoft 10 Pro sits at £219.99 per licence.
So, what's new and how will it help your business?
Microsoft Teams & Windows 11 integration:
Teams will be now integrated into Windows directly; there is now a dedicated icon and a graphical refresh and Microsoft revealed that no matter what device or platform – whether its Windows, Android or IOS – you can connect with colleagues or other people from around the world.
The Start Menu – redesigned and powered by the Cloud
The new Start Menu which is powered by the Cloud, includes its usual Bing Search bar. However, it's the aesthetic change to the Start Menu that's the big change. It's a frosted glass aesthetic with multiple styles to choose from, and the Start Menu is centre-aligned. All your recent documents will sync across all devices if you're using Microsoft 365 and you can pin your favourite applications to the Start Menu.
Snap Layouts in Windows 11
The unsung hero of the Windows 11 updates are Snap Layouts. Snap Layouts let you quickly and easily tile different windows in different orientations which is significantly more user friendly and configurable, than Microsoft's previous offering. You can now have multiple virtual desktops with layouts customised for how you want to work, for different types of work.
Our thoughts…
It's looking like Windows 11 will be released early in 2022, and whilst we've talked about some of our favourite features for business users, there are seven major areas of change in all. This snazzy Microsoft Windows 11 video gives you a whistle-stop preview of some of the changes.
Whilst it's always great to get on the latest, fastest operating system, becoming an early adopter is often not a good idea, as even a few weeks can make a difference. For example, third party driver developers will have been able to sort out many glitches as users report them and after all.
From a user perspective, Windows 11 is a significant change from Windows 10 and will take time to get used to. It's essential to consider that whilst many changes will be intuitive, it will inevitably interrupt users workflow for a short time as they navigate, learn and optimise the changes. So, upgrading at critical periods (such as a year end, month end, stock-take or when payroll is due, for example) should always be a consideration.
So, what's our take on what to do next? Sit back and wait for now. There'll be lots of exciting new information available as the Windows 11 release date approaches, so watch this space. Rest assured that as a Microsoft Silver Partner, we'll be here to guide you through the pro's and con's of the upgrade process.
If you'd like any more advice or help on Windows 11 in the meantime, call us on 03300 886116 or email info@pcsupportgroup.com