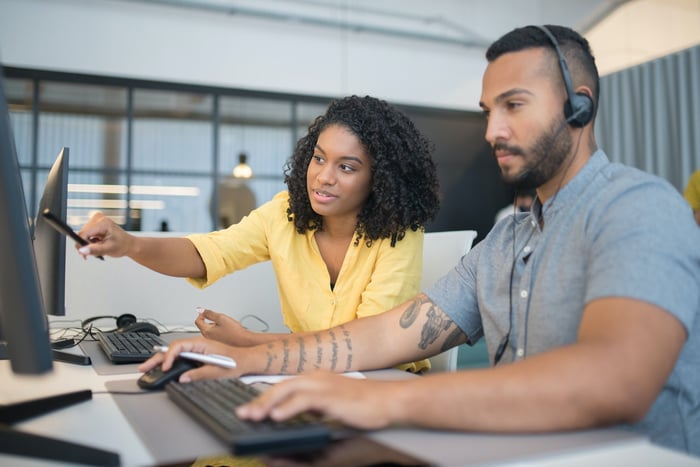 IT as a managed service has been around for some time, but in the last few years, demand for this type of service has increased - and shows no signs of slowing.
So what exactly does IT as a service entail, and more importantly, how can it benefit you as a business owner or leader?
In this article, we'll explore exactly that, and look at how managed service providers deliver IT support to businesses of all sizes and types.
Let's dive into the world of ITaaS.
What is IT as a Service?
IT as a Service, commonly abbreviated to ITaaS, is the name given to the service delivered by IT support companies to other businesses. It is an operational model where the managed service provider (MSP) looks after the maintenance and upkeep of some or all of the client's IT operations.
IT support services can include a range of functions, and the agreement between provider and client will depend on the business requirements and circumstances.
Services delivered can include:
Data protection and recovery
Cyber security
Security audits and testing
Cloud services
On-site technical support
Mobile device management (MDM)
Telecommunications and VoIP telephony
In some cases, businesses will choose to have an ITaaS provider manage their entire IT infrastructure and systems. Other businesses will choose to outsource smaller parts of the operation, while keeping some of the management in-house.
Why is Demand Rising for ITaaS?
The modern workplace is constantly evolving, and with that change comes new technologies, best practices and IT requirements. For internal IT teams, it can be hard to keep up with the fast-paced nature of the industry, whilst also completing the day to day responsibilities of an IT manager or technician.
For SMEs in particular, managed IT services can provide a host of benefits - which more and more businesses are now choosing to take advantage of; up to 83% of UK businesses now use a managed service provider (MSP) to manage some or all of their IT systems.
Here are six reasons why small and medium-sized businesses are increasingly choosing to outsource their IT support.

1. Cost Benefits
The cost of a managed IT service can vary depending on the service level, the provider itself and the size of your own company. However, that doesn't mean it has to be a costly outlay. In fact, using an MSP to deliver IT support is generally a lot more cost-effective than hiring an internal team yourself.
Additionally, you're likely to see better productivity due to increased uptime, which means better results for your business - and better revenues too. Particularly in times of financial instability, choosing IT as a managed service over building an internal IT department can be a wise investment.
2. Access to Knowledgeable Experts
If you have a gap in your knowledge on any subject, you'll want to find experts in that area to bridge that gap and help resolve your problems. Just like you are (hopefully) an expert in your industry, a managed service provider is an expert in the IT world.
That doesn't just mean responding to your technical queries, but also extends to sharing their expertise from a strategic standpoint that allows you to improve your IT operations and grow your business.
3. Increased Cyber Security
If you're not already serious about cyber security, you should change that immediately. It takes only the smallest window of opportunity for cybercriminals to launch an attack that can leave your business devastated. In some cases, it can be impossible to recover.
One of the key reasons why so many companies are choosing to outsource their IT on an ITaaS model is that the MSP is able to provide strong levels of security to protect their data and sensitive information. Working in the background, the provider is able to remotely apply patches and software updates, as well as high-quality monitoring and protection from the dark forces of the cyber-crime world.
4. Scalability
During times of business growth, it can be difficult to maintain support for the systems that underpin the business operations. Often, increases in output and workload can put a strain on IT systems, and it can be a difficult or long-winded process to bring in additional IT support.
With a managed IT service package, you're afforded some much-needed flexibility, meaning you can scale the support level up in times of growth, or down if necessary. Changes to the service level can be acted upon much more quickly than a drawn-out internal hiring process. This also means that IT costs can be more easily managed in line with the company's needs.
5. Strategic Support for Internal Teams
For many IT managers and technicians, it's a familiar story of strategic projects being put on the back burner to deal with technical problems within the business. These frustrations are common, but can be smoothed somewhat with a managed IT service.
In this instance, the MSP takes on responsibility for the general maintenance and troubleshooting, which can free up time for the internal team to focus on the projects that deliver business growth and value.
IT as a Service Can Help Your Business Grow
Managed IT services can bring a whole host of benefits to your business, and it's clear that ITaaS is a constantly growing and in-demand solution. To see your business flourish and succeed, you need reliable IT systems in place to support your activities. The key is to not get left behind - and, even better, to be at the forefront of change and embracing of new technologies.
By moving to an IT as a managed service model, you can be assured that you're able to receive expert support from experienced professionals who know how to make your IT systems work harder and better.
When choosing your provider, it's vital that you understand how they can help your business, and that they are able to deliver on what they say they can. To better help you find the perfect partner, download our free guide today.
If you're ready to experience the benefits of managed IT services, give us a call and we'll be happy to work with you to deliver a plan that works for your business.