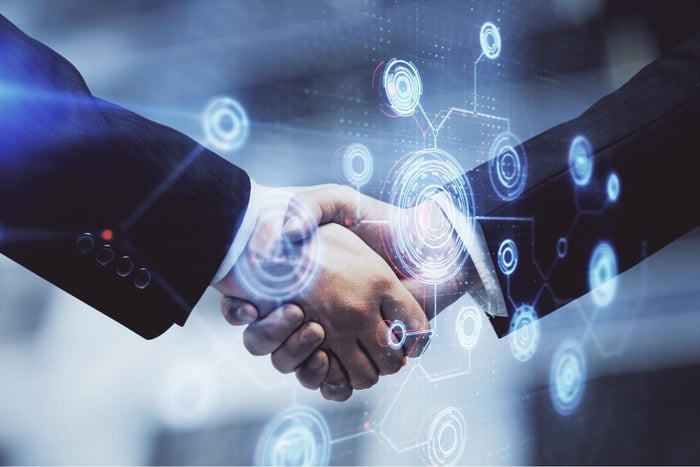 For many years, IT has been perceived as a necessary cost to a business. We all know that IT is crucial for success, but in recent times, many companies are choosing to work with IT support partners to help them transform their IT from a business cost to a business enabler.
When implemented and managed properly, IT should be a real asset and work as a key differentiator from the competition. Businesses won't achieve their goals and thrive in today's highly competitive and digitally connected world without having a well thought out IT strategy, put together with the right IT management service company.
Here at The PC Support Group, we are experts in this field, working with many companies to transform their IT into a powerful business tool. Recently, we have helped AMION Consulting transition to a new IT and telecoms infrastructure, and the results have been incredible.
Our team of experienced managers and engineers took on the task of transforming their IT from a business cost to a business enabler, and thought, why not share some of this knowledge and experiences on this challenging subject.
Understand Your IT Objectives and Highlight Current Challenges
Before you can begin making changes to your IT infrastructure, you need to know precisely what you want to achieve. When we first start working with a new client, our consultants set out to understand everything about their business. IT runs much deeper than just a particular department, for example, it affects every department within an organisation differently. In order to get the most out of your IT, you need to know and understand what issues your teams are currently facing, as well as what your objectives are from a new system. It's also critical that you have engagement and input from wider stakeholders to drive a successful IT transformation.
Working closely with the directors and senior management at AMION Consulting, we quickly understood that they had to move away from their on-site legacy servers and needed to utilise Cloud computing with SharePoint. The team at AMION explained their frustrations with their previous IT support arrangements and how their infrastructure was limiting their ability to work efficiently and collaboratively. It was clear that for IT to become an enabler for their business, they needed a reliable, stable and flexible infrastructure in the cloud.
Think About Your Long-Term Requirements
Many businesses will make the mistake of only considering their needs in the short term, but it's essential that you look at the long-term possibilities. Introducing a new infrastructure is a big investment and not something you want to be doing every five years. Prioritise technologies that can scale with your company and look at how they can make your business more efficient in the long run. If your business goals are to open three new offices within the next ten years, then your new IT systems need to be able to support this.
AMION Consulting work with government departments, local authorities and many private sector businesses, and one of their key priorities for both now and in the future is cybersecurity. They constantly need to demonstrate their cybersecurity protocols when bidding for new business, so this was a crucial requirement for their new IT infrastructure. We worked alongside AMION to review their current cybersecurity arrangements, renew their Cyber Essentials accreditation and adopt new multi-factor authentication processes.
These are just some of the things that have helped to set their business up for long term success.
Get Unstuck from Legacy Systems and Processes
We often come across businesses who are sticking to processes that haven't changed in many years, and when we ask why, the answer is usually "because that's the way we've always done it". If you have always seen IT as a business cost, then you need to be prepared for significant change if you want to make it an enabler for your organisation. A lot of business owners think that moving IT suppliers is a painful, complex process, but that doesn't have to be the case.
When we planned AMION Consulting's move to new systems, we made sure to complete the project in three separate stages. This helped the team become unstuck from their legacy systems and make the transition as smooth as possible:
Move everything over from their office server to the cloud.

We upgraded their systems to include

Cyber Essentials

and

SharePoint

.
Choose A Trusted IT Partner
Ultimately, you will never be able to ensure your IT is an enabler for your business unless you are working with a partner that you can rely on. Your IT support services should work alongside your business to help it thrive and constantly look for improvements for the long term.
Graham Russel, CEO of AMION Consulting, had this to say about our new partnership: "There's a tangible sense throughout the business that our technology is now a real asset for us and that there have been major improvements in a short period of time, and that is down to The PC Support Group. As a result, we think we have a partnership for the long-term, and that's exciting.".
If you are looking to transform your IT infrastructures and start making your IT work for you, then get in touch with our expert team today.