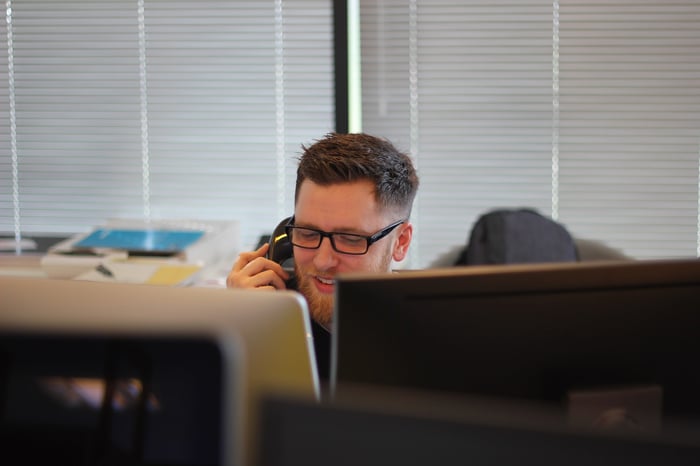 It's one thing to have IT support from a managed service provider (MSP), but how do you know if they're doing a good job? And how can you make sure that partnership is a fruitful one?
There are many ways in which an MSP might work, but there are certain behaviours that you should look out for.
In this guide, we'll run through some of the managed service provider best practices and how you can build a strong and trusting partnership with your chosen MSP.
How Does an MSP Work?
A managed service provider is hired to help support and maintain your business's IT systems. The remit of the MSP will depend on the circumstances and the agreed service level agreement.
Some companies choose a fully managed approach, which means the MSP assumes full responsibility for the upkeep, maintenance and monitoring of the IT systems. They're on hand to troubleshoot issues, and may be required to make a visit to the client's site to complete their work.
Others might prefer a co-managed offering, where the MSP works alongside an existing internal IT department. In this case, the MSP may be responsible for monitoring and maintenance or troubleshooting, with the internal team delivering on more strategic projects to support the business's overall needs.
There are many other service levels and agreements that can be struck between an MSP and a client. For example, a business may request remote-only support, which means the MSP operates from their own headquarters without ever travelling to the business's location. Other businesses may use an MSP just for certain aspects of the IT, such as cyber security, cloud services, or telephone and communications.
Whichever level of service is agreed, though, the MSP needs to be available and reachable at the click of a button or on the end of the phone whenever they're needed.
What Makes a Successful MSP Partnership?
For many small and medium-sized businesses, outsourcing some or all of their IT to a specialist provider proves to be a shrewd investment. But success depends on whether they deliver what you need them to; that they make a tangible difference to your business for the better.
You have to be happy with the service you're receiving from your support provider. Do they get things fixed? Are they always available? Do they keep you in the loop? Do you trust what they tell you?
If you're able to answer yes to all of these questions, then you're in a good place. Often, though, it's not quite that straightforward.

Managed Service Provider Best Practices
When it comes to managed services, there are certain best practices that good MSPs will follow and adhere to. Here are some qualities that a good MSP will possess and bring to the table:
Proactivity - You want your IT support on hand when you need it (i.e. when things go wrong). But a good MSP will be working proactively in the background to minimise risks and mitigate issues, meaning your downtime is reduced.
Knowledgeable - IT is a fast-paced and ever-evolving industry, which means it can be hard to keep up. Good MSPs offer an array of experienced and knowledgeable technicians who specialise in different areas, giving you access to high-quality advice and information when you need it.
Reliability - The same issues occurring time and again suggest something isn't quite right with your support. A trusted partner will be reliable enough to be there when you need them and fix issues swiftly, effectively and permanently.
Availability - There's no use paying for a service if that service isn't forthcoming when you need it most. A trusted MSP will have extended support hours, often beyond your normal business hours, Flexibility - For a partnership to flourish, there needs to be an understanding on both sides, and that should be reflected in the way your chosen provider is able to adapt to your needs. For example, quickly adding or removing IT services as required.
Uses up-to-date and state-of-the-art tech - An IT support partner should be at the forefront of the industry and practising what they preach. That means using new and up-to-date technology, software, hardware and methods to get your IT systems performing as well as they possibly can.
Feels like an extension of your business - MSP partnerships that feel one way and transactional rarely last. A good provider will become a trusted partner that feels as though they're a part of your own business, by taking an interest and making recommendations to help your company's growth.
There are many ways a managed service provider can help your business, but the key thing is to ensure that your chosen provider is able to deliver what they say they can and - most importantly - what you need them to.
If your existing provider doesn't work in line with these best practices, it might be time for a change.
Keen to Learn More About How an MSP Could Help Your Business?
As outlined in this article, a managed IT service can bring many benefits to your business, but only if the provider works in line with best practices and meets your requirements. Whether it's through flexibility and scalability, being proactive and available when you need them or simply through building a trusting relationship, choosing the right partner can be the difference between a fruitful or difficult association.
If you're considering outsourcing your IT operations to an external partner, take some time to consider your options and understand who is best placed to deliver the service you need. As part of your research, ask vendors these 20 questions to get a better idea of if and how they can help you.
You should also discuss your requirements to get the appropriate level of service. At The PC Support Group, we take into account the client's business needs, goals and KPIs to build a bespoke support package that delivers the right results.
If you're eager to know more about how managed IT services can help to take your business to the next level, download our free guide - Managed IT Service Providers: A Guide to Choosing The Right Partner.