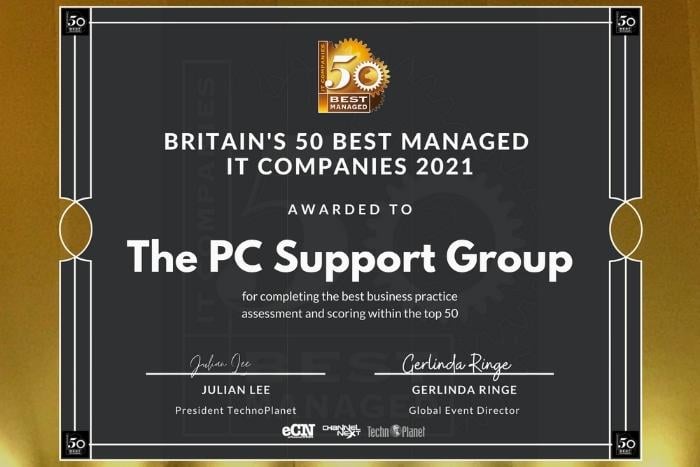 Northwest-based IT and telephony provider wins the '50 Best Managed IT Companies in Britain Award' for the 5th consecutive year.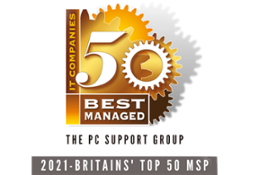 The 2021 award from 'Technoplanet' recognises the very best MSP's and VAR's in the UK IT channel in terms of their capabilities and performance.
Companies are evaluated in twelve key business areas with over two hundred questions developed with over thirty professional IT business coaches.
Phil Bird, CEO of The PC Support Group, a Northwest-based IT & telephony provider, said:
"We are thrilled to have received this award for the fifth year running. It demonstrates that our business practices and strategy are consistently amongst the best in the IT sector, not just here in the North West, but nationally too."
Phil continued:
"The selection process for this prestigious award is rigorous, and rightly so. Everything from sales processes, marketing, operations, financial, technical assessments and certifications, customer feedback to business growth strategy are judged in great detail. We work hard to provide a world-class IT support service, working with our clients to help them grow their business by using the right technology for them.  We believe that we have the best staff delivering the highest IT expertise, and it's wonderful for the team to be recognised on a national level, and to be part of a really special global group. The 50 Best Managed IT Companies Award winners in each country make up an internationally elite cohort."
The PC Support Group provides fully managed IT & telephony support to SME's across the North West.  Their focus is to protect and enable their clients to achieve their business goals through exceptional service and IT expertise.
For more information about the services The PC Support Group can offer your business, contact the sales team on 03300 886 16.